Spain Property Specialists are independent, trustworthy experts based in Spain, here to help you to navigate through every step of the process of getting your new home in Spain, holding your hand before, during, and after you get the keys!
Meet the team!

Zoe Doran
If you're thinking about making changes to improve your lifestyle then our Zoe Doran, is the ideal person to spend time with as, after years of working her way up the ladder in a blue-chip business, she took the opportunity of voluntary redundancy to swap the stress of corporate life to create a quality of life that is possible when you stop and choose how you want to live and start working your way towards it! Zoe has spent the years since leaving the rat race with the intention of making a difference wherever she can and applying her big business experience to work with good people and interesting projects, including setting up and growing businesses, organizing events, and working in property for all kinds of people.
As a working mother of 4, Zoe founded her own daytime networking events for women in business to enable them to attend during school hours, with smaller children welcome, as we all know the importance of engaging with others to share ideas and information. Zoe was drawn to Southern Costa Blanca life by her best friends' parents who were the pioneers who discovered the glorious beaches, and magical balance of beautiful outdoor living with plenty of desirable amenities and shops bars restaurants, and golf courses on hand with just the right amount of hubbub all year round.
Zoe has enhanced her experience of life in Spain by previously working as an estate agent and is now proud to be a property finder putting the client's needs first! Zoe's friendly, pleasant approach will put you at ease, and you can relax in the knowledge that Zoe will listen to your needs and apply all of her focus and experience, using her extensive network of connections to find you the perfect place.
Oliver Allen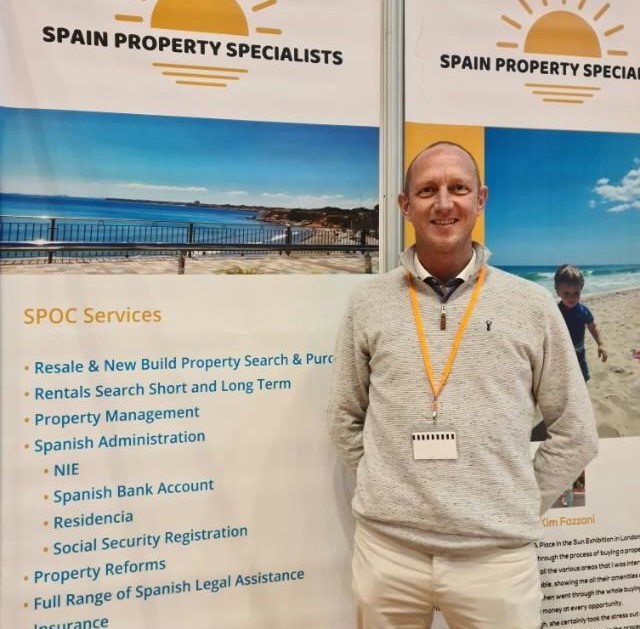 Oliver is our expert on the north of Costa Blanca. Stretching from Alicante city all the way to just south of Valencia city. Having lived here for over 10 years his knowledge of the area is second to none. Originally from sunny Birmingham, Oliver adores the Spanish way of life and is comfortable with the local language.
Areas of north Costa Blanca include, Sant Juan de Alicante, El Campello, Villajoyosa, Benidorm, Altea, Calpe, Javia, Moraira, Denia and many more, including some spectacular inland villages.
Properties tend to be a little more expensive than in the south, but there are still some fantastic bargains to be found.
As a property finder, Oliver always puts the client's needs first and will move heaven and earth to search for your dream home.
You can contact Oliver via email at costablanca@spainpropertyspecialists.com or by mobile or WhatsApp on 0034 711 085 427.